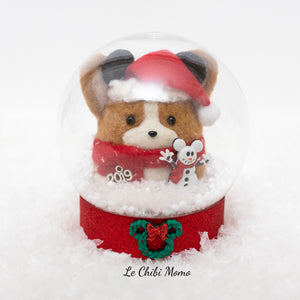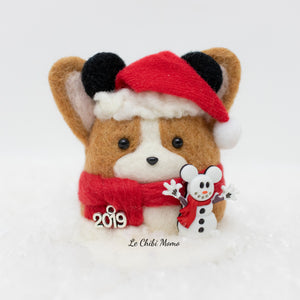 Santa Corgi with Mouse Ears and Mickey Snowman Snow Globe
Do you want to build a snowman?
Bring in the holiday cheer with this snow globe featuring an adorable needle felted holiday corgi konigiri. He comes wearing a mouse ears Santa hat and a red scarf, and holding a Mickey Mouse snowman in his magical winter wonderland.
Snow globes are magical, whimsical and fun. Enjoy the sound of a dry/waterless snow globe and it's so satisfying to shake. It will definitely add some Christmas cheer to your home. It would make a perfect Christmas gift for your Disney fans too!
Each piece is truly a one-of-a-kind and handmade with love out of 100% wool through the process of needle felting.
All products are made in a smoke-free and pet-friendly environment.
DETAILS

DIMENSIONS
❤ SNOW GLOBE: height - 4 1/2", width - 3"
MATERIALS
❤ CORGI: 100% natural wool, plastic eyes and nose, Santa hat, Mickey snowman cabochon, metal charm
❤ SNOW GLOBE: plastic snow globe, artificial snow, paw cabochon, glittered ribbon
CARE
❤ Please keep in mind that these felted pieces are NOT TOYS. Small parts can detach with rough handling and can pose as choking hazards. Please display out of the reach of young children or pets.
❤ Dust occasionally with a dry cloth but do not wash.