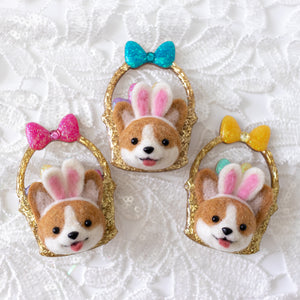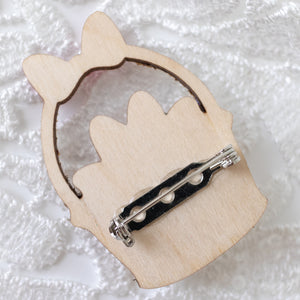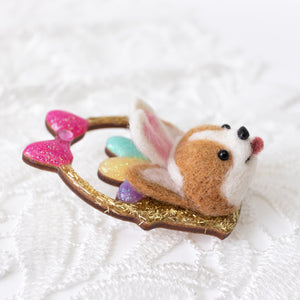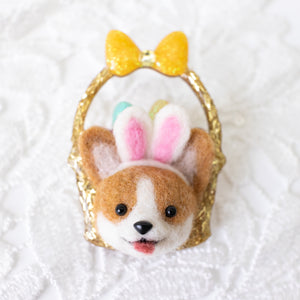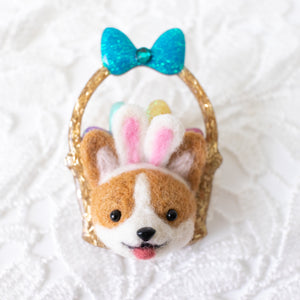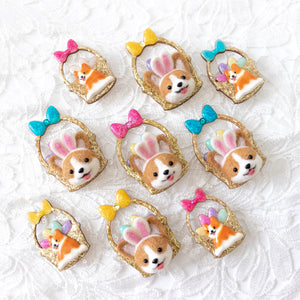 No Easter basket is complete without a corg-bunny. This cute brooch would be the perfect accessory to your child's spring outfit for an Easter egg hunt fun.
NOTE: This is MADE-TO-ORDER. Please allow a processing time of 1 to 2 weeks.
You can choose from the following colors: PINK, YELLOW, BLUE.
These brooches are handmade with love out of 100% natural wool.  They may differ slightly from the photos shown. Each piece is unique and truly one-of-a-kind.
All products are made in a smoke-free and pet-friendly environment.
DETAILS
DIMENSIONS
❤ EASTER BASKET: height - 2 1/2", width - 1 3/4", thickness - 1/8"
MATERIALS
❤ CORGI BUNNY: 100% natural wool, plastic eyes and nose
❤ EASTER BASKET: Baltic birch plywood, glitter, (uv sensitive) chromatic pigment powder, uv resin, brooch pin back
CARE
❤ Please keep in mind that these felted pieces are NOT TOYS. Small parts can detach with rough handling and can pose as choking hazards. Please display out of the reach of young children or pets.
❤ If your felted piece gets snagged or gets fuzzy over time, carefully trim the loose fibers. Do not pull them out or you can pull off much of the finished felt.
❤ Dust occasionally with a dry cloth but do not wash.