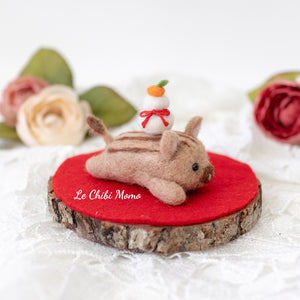 Happy Year of the Pig!!
This removable nekoro boar and traditional kagami mochi on a platform is a perfect decorative piece to brighten your home for Japanese New Year.
Each piece is handmade with love out of 100% natural wool through the process of needle felting.
DETAILS

DIMENSIONS
❤ BOAR: length - 2 1/2"
❤ STAND: diameter - 3"
MATERIALS
❤ BOAR & KAGAMI MOCHI: 100% natural wool, plastic eyes and nose, ribbon
❤ STAND: pre-felt fabric, basswood coaster
CARE
❤ Please keep in mind that these felted pieces are NOT TOYS. Small parts can detach with rough handling and can pose as choking hazards. Please display out of the reach of young children or pets.
❤ If your felted piece gets snagged or gets fuzzy over time, carefully trim the loose fibers. Do not pull them out or you can pull off much of the finished felt.
❤ Dust occasionally with a dry cloth but do not wash.