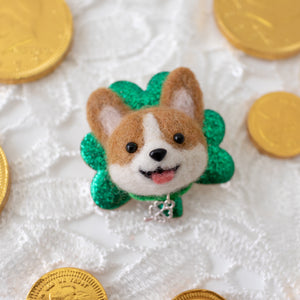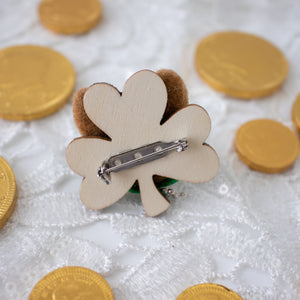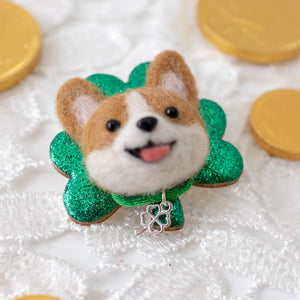 Get lucky and avoid getting pinched by wearing a lucky Corgi clover pin for St Patty's Day!
The pin sparkles in the sunlight and will add cuteness to your outfit and/or tote bag.
Corgi is wearing it's own mini four leaf clover charm.
Each piece is handmade with love using 100% wool through the process of needle felting.
DETAILS

DIMENSIONS
❤ CLOVER: height - 1.75", width - 1.75"
MATERIALS
❤ CORGI: 100% natural wool, plastic eyes and nose, ribbon, metal clover charm
❤ CLOVER: Baltic birch plywood, glitter, uv resin, brooch pin back

CARE
❤ Please keep in mind that these felted pieces are NOT TOYS. Small parts can detach with rough handling and can pose as choking hazards. Please display out of the reach of young children or pets.
❤ If your felted piece gets snagged or gets fuzzy over time, carefully trim the loose fibers. Do not pull them out or you can pull off much of the finished felt.
❤ Dust occasionally with a dry cloth but do not wash.