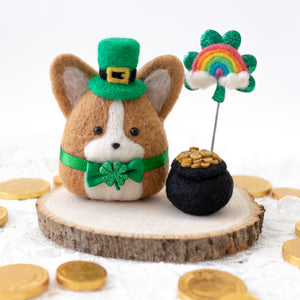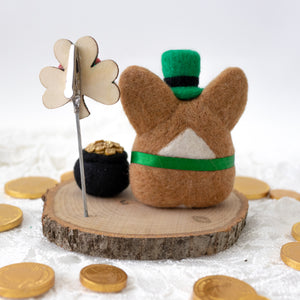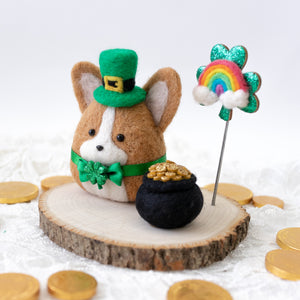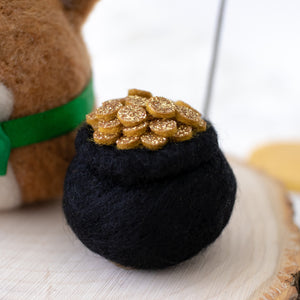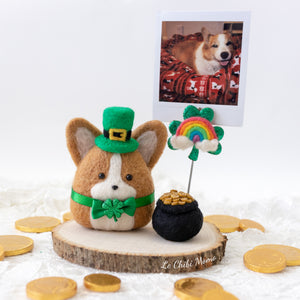 You'll find a Corgi Leprechaun with his pot of gold at the end of the rainbow.
This St Patty's corgi is wearing a cute shimmery clover bowtie and tall green top hat. He has a pot of gold made from glittery wool felt. The photo clip is embellished with a glittery green wooden clover with a needle felted rainbow.
Each piece is handmade with love using 100% wool through the process of needle felting.
DETAILS

DIMENSIONS
❤ CORGI: height - 3.5"
❤ PLATFORM BASE: diameter - 5"
MATERIALS
❤ CORGI: 100% natural wool, plastic eyes and nose, ribbon, glittered clover cabochon
❤ POT OF GOLD: 100% natural wool, glittered pre-felted wool
❤ RAINBOW PHOTO CLIP: Baltic birch plywood, glitter, 100% natural wool, iron alligator clip steel wire
CARE
❤ Please keep in mind that these felted pieces are NOT TOYS. Small parts can detach with rough handling and can pose as choking hazards. Please display out of the reach of young children or pets.
❤ If your felted piece gets snagged or gets fuzzy over time, carefully trim the loose fibers. Do not pull them out or you can pull off much of the finished felt.
❤ Dust occasionally with a dry cloth but do not wash.