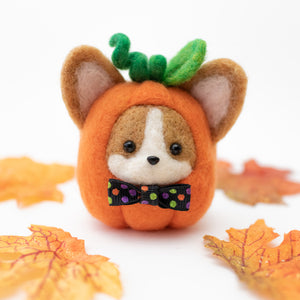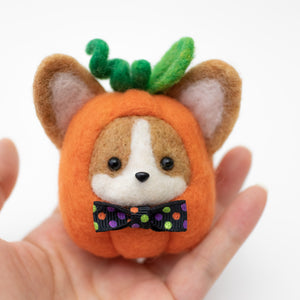 Corgi Pumpkin Konigiri #4
Autumn has arrived and pumpkins are everywhere. This cutie corgi pumpkin is here to brighten up your fall days.
It would be a perfect gift for corgi lovers or can be used as a decorative item to add some cuteness to your living space.
All products are made in a smoke-free and pet-friendly environment.
DETAILS
DIMENSIONS
❤ CORGI PUMPKIN: height - 2 3/4", width - 2 3/4", thickness - 1 3/4"
MATERIALS
❤ CORGI PUMPKIN: 100% natural wool, plastic eyes and nose, ribbon, wire
CARE
❤ Please keep in mind that these felted pieces are NOT TOYS. Small parts can detach with rough handling and can pose as choking hazards. Please display out of the reach of young children or pets.
❤ If your felted piece gets snagged or gets fuzzy over time, carefully trim the loose fibers. Do not pull them out or you can pull off much of the finished felt.
❤ Dust occasionally with a dry cloth but do not wash.