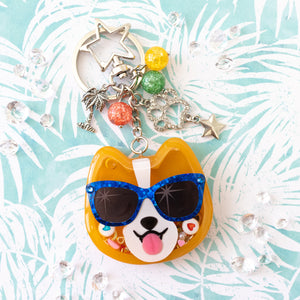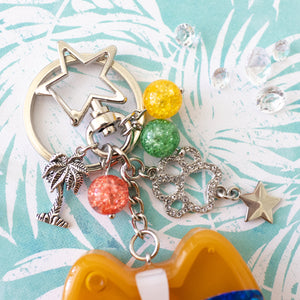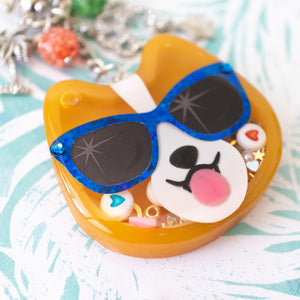 Sunset Strip Corgi with Blue Shades Liquid Shaker Charm
Summer daze. Imagine this corgi enjoying their days of summer cruising down Sunset Strip with their shades on. To go along with that image, I used charms that would respresent an image of Hollywood: the glitz and glam, the Walk of Fame, and the palm tree lined streets.
Bedazzle your keys or bag with this summer fun corgi charm and watch the little embellishments move as you shake the charm.
These are one-of-a-kind items. They are handmade with love out of epoxy resin. 

DIMENSIONS
❤ CORGI HEAD CHARM:  2"h x 2"w

MATERIALS
❤ CORGI HEAD CHARM: epoxy resin, polymer clay, perler powder, holographic vinyl, Swarovski crystals
❤ KEYCHAIN: silver palm tree, rhinestone paw, silver star, crackle, glass beads, star shaped clasp keychain
❤ SHAKER EMBELLISHMENTS: acrylic beads, confetti, gold and silver inserts, dog paw and dog bone cabochons

All products are made in a smoke-free and pet-friendly environment.
❤ Do not leave in direct sunlight or car for extended periods of time.
❤ Easily wiped clean with a washcloth and cold water.
❤ Small parts can be a choking hazard. Not recommended for use by small children or pets.