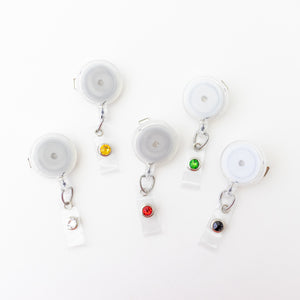 ADD ON: Upgrade BROOCH to BADGE REEL
NOTE: This is an add-on to upgrade your needle felted brooch. See example photo of WEB badge reel.
Swivel badge reel bedazzle with Swarovski crystal.
Choose the following crystal color: 
- RED (light siam)
- YELLOW (sunflower)
- GREEN (fern green)
- BLACK (jet)
- CLEAR
DETAILS
DIMENSIONS
❤ BADGE REEL: height - 3 1/4", width - 1 1/4", thickness - 1"
MATERIALS
❤ BADGE REEL: alligator clip, retractable cable, snap button, swarovski crystal


CARE
❤ Small parts can detach with rough handling and can pose as choking hazards. Please keep out of the reach of young children or pets.